Programme Overview
The Bachelor of Science with Honours in Applied Data Science (BSc-ADS) is the First Bachelor of Science programme in Shue Yan University.
Unlike other similar programmes offered by other institutions oriented towards business analytics mathematical and statistical modelling, our programme aims to equip graduates with cross-disciplinary skills to understand and overcome the challenges associated with interpreting large volumes of data and communicating the results to the intended audience to enable data-driven decision making and solve real-world problems.
Therefore, we welcome students from all education backgrounds.
The curriculum of the programme includes courses in four key areas:
ADS Fundamentals,
Business Analytics,
Digital Humanities / Social Science,
VR/AR Visualization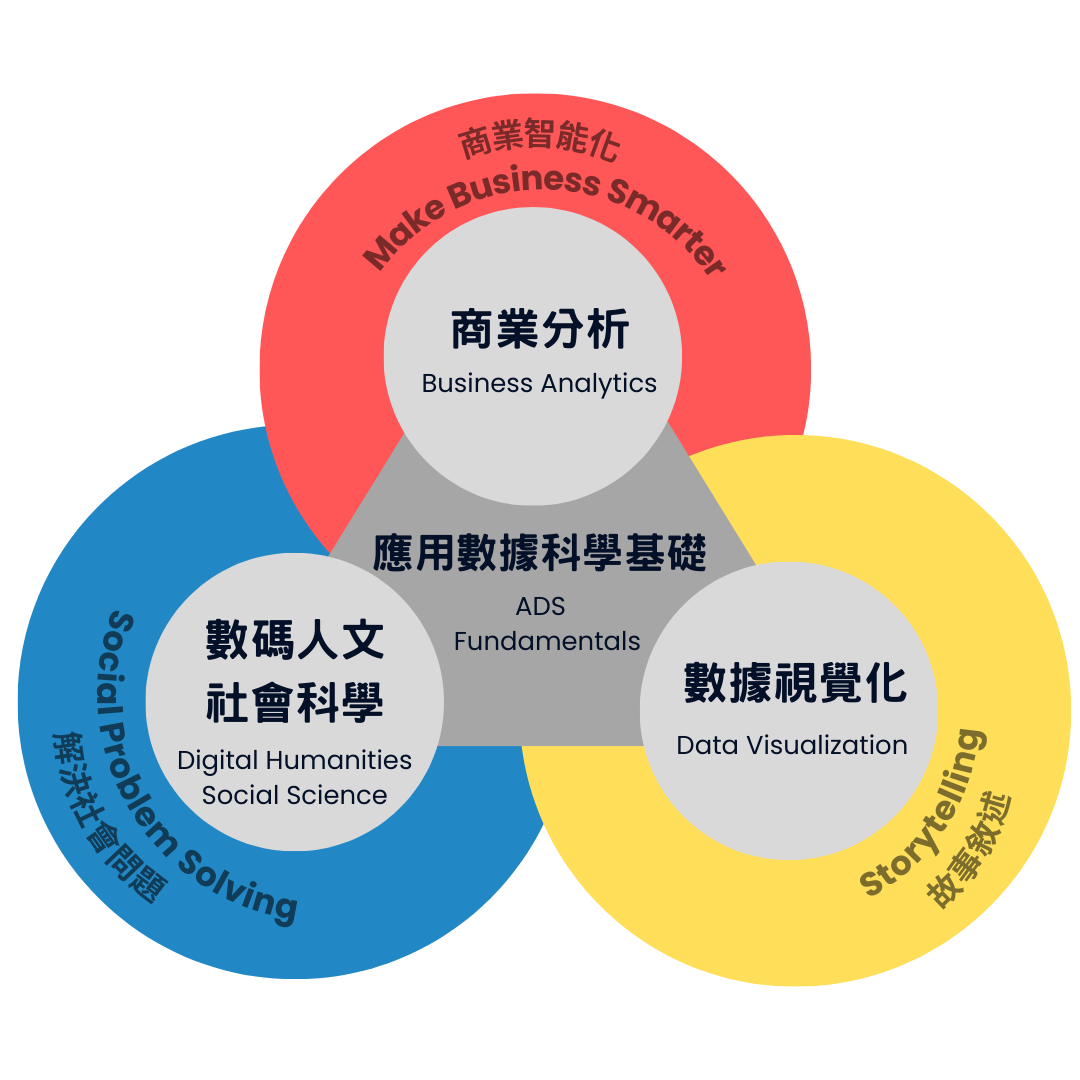 Students will also be able to apply their knowledge in reality through the industry experience provided before graduation:
Professional Internship

Capstone Project
The design of BSc-ADS is unique and balanced. It would help students be all-rounded and more professional to meet the community needs in digital era.
BSc-ADS Key Areas
Proposed core and elective courses of each of these areas include (to name a few):
1

ADS Fundamentals

Enables students to gain a basic understanding of the computational principles and knowledge of mathematics and statistics before the data analytics begins

Introduction to Data Science, Calculus and Linear Algebra, Probability and Statistics, Python for Data Science, Introduction to Database Systems

2

Business Analytics

Focusing on the conceptual and practical understanding of the ideas behind turning big data into actionable knowledge to make business smarter

Big Data Analysis, Block Chain for Business, Digital Analytics for Marketing, Internet of Things, Introduction to FinTech, and Customer Insights & Experiences

3

Digital Humanities / Social Science

Applying theoretical frameworks and research techniques critically in order to understand the key issues raised by digital humanities and by the use of big data in the arts and social sciences more generally

Digital Humanities Theories & Methods, Social Media Data Analytics, Data Science Ethics, Social Problems, Criminology, Urban Sociology, and Social Psychology

4

Data Visualization

Introducing tools to help data scientists to tell 2-D or 3-D stories via data visualizations of real-time big data sources through VR or AR

Understanding VR/AR, Computer Graphics Design & Publishing, Visualization Analysis & Design, and Technological Change in Human Communication, Asset Creation for VR/AR, VR/AR Application Development

5

students are required to participate in a 3-month summer internship at local or overseas corporations by the end of Year 3

6

In Year-4, students have to undertake the industry-linked capstone project